Universal Orlando's Mardi Gras can be enjoyed every night from Feb. 1 through April 2 at Universal Studios Florida. Enjoy nightly parades with outrageous street performers, colorful costumes and countless beads flying everywhere! Catch some of the biggest names in music live in concert on select nights. We have put together 7 Reasons to Experience Mardi Gras At Universal Orlando.
7 Reasons To Experience Mardi Gras At Universal Orlando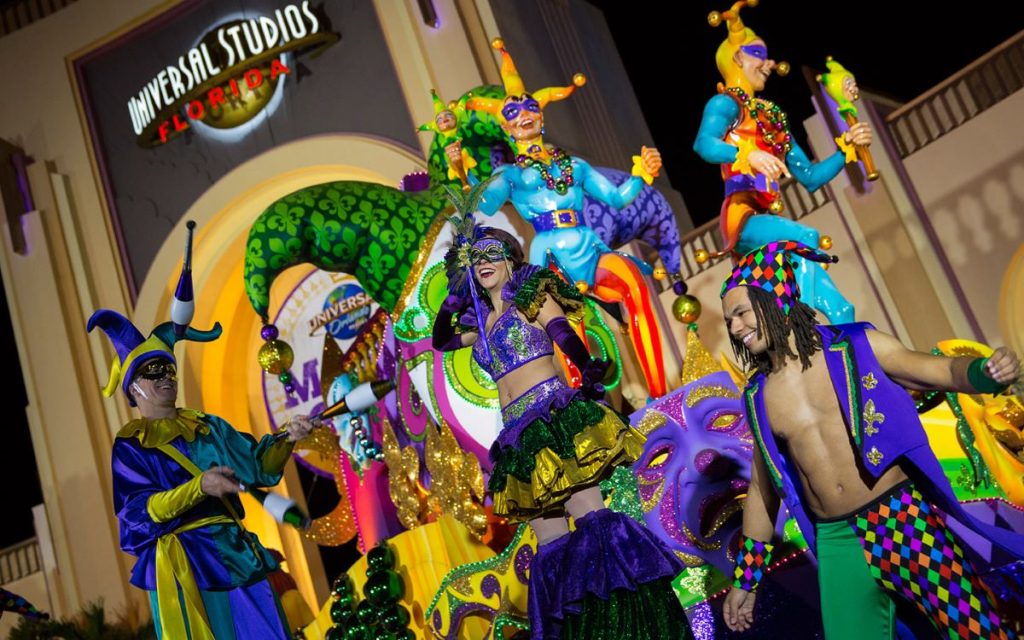 1. Live Concerts with Some Of The Biggest Names In Music
First and foremost, on select nights, you can watch some of the biggest names in music take to the Music Plaza stage in Universal Studios Florida for unforgettable performances. You can't have a great party without great music. On select nights of Universal Studios' Mardi Gras, catch performances from some of the biggest names in pop, rock, country, R&B and more at the Music Plaza stage.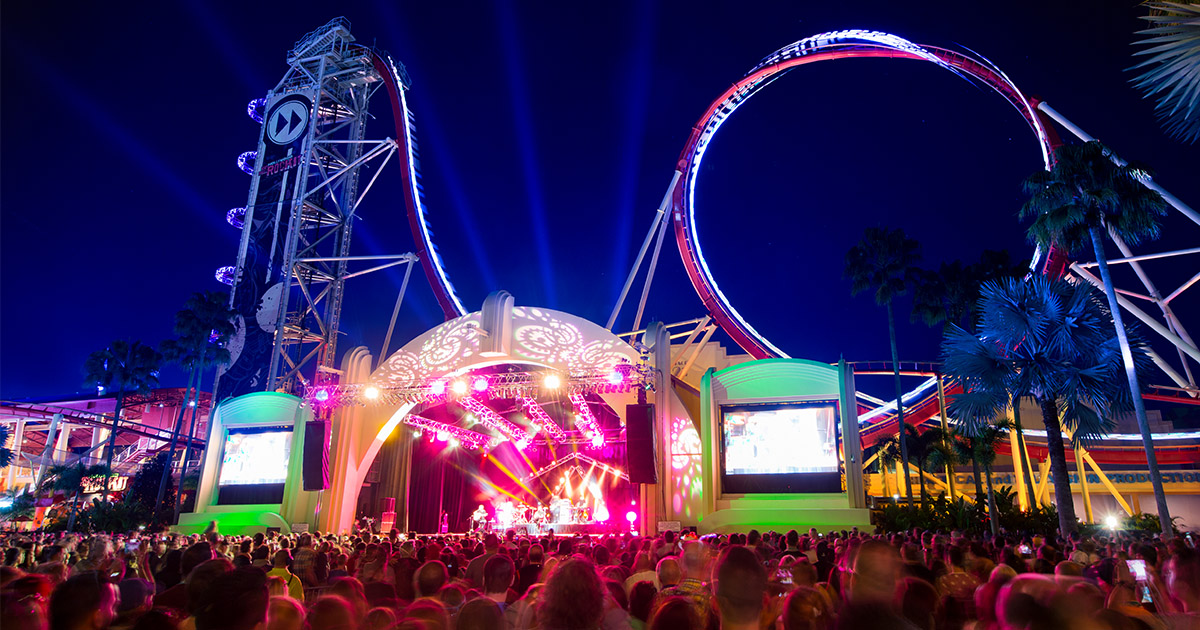 Mardi Gras Concert Lineup:
Saturday, Mar. 7 – REO Speedwagon 8:30 pm
Sunday, Mar. 8 – Dustin Lynch 8:30 pm
Friday, Mar. 13 – Luis Fonsi 8:30 pm
Saturday, Mar. 14 – The All-American Rejects 8:30 pm
Sunday, Mar. 15 – Diana Ross 8:30 pm
Friday, Mar. 20 – Chris Young 8:30 pm
Saturday, Mar. 21 – Earth, Wind & Fire 8:30 pm
Sunday, Mar. 22 – Marshmello 8:30 pm
Saturday, Mar. 28 – Why Don't We 8:30 pm
Sunday, Mar. 29 – Gavin DeGraw 8:30 pm
2. Universal Mardi Gras Parade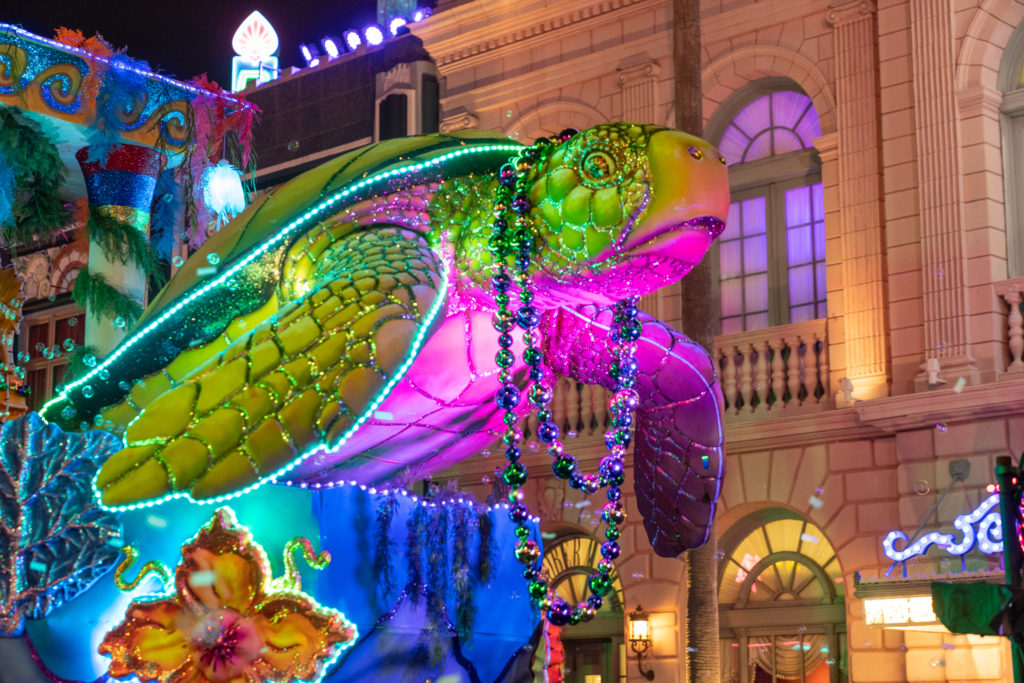 Gather with your fellow party animals to see our stilt walkers, dancers and street performers get in touch with their wild side amidst themed parade floats. Let the good times roll as our colorful menagerie parades through the streets of Universal Studios Florida. This year's theme is "Treasures of the Deep" featuring floats inspired by a Treasure Map, the Sunken City of Atlantis, Creatures of the Deep and a treasure-filled Lost Ship Lagoon. Confetti will fly as countless strands of beads are tossed into the crowd at this wild and wonderful evening event.
3. Dig Into N'awlins Style Delicious Food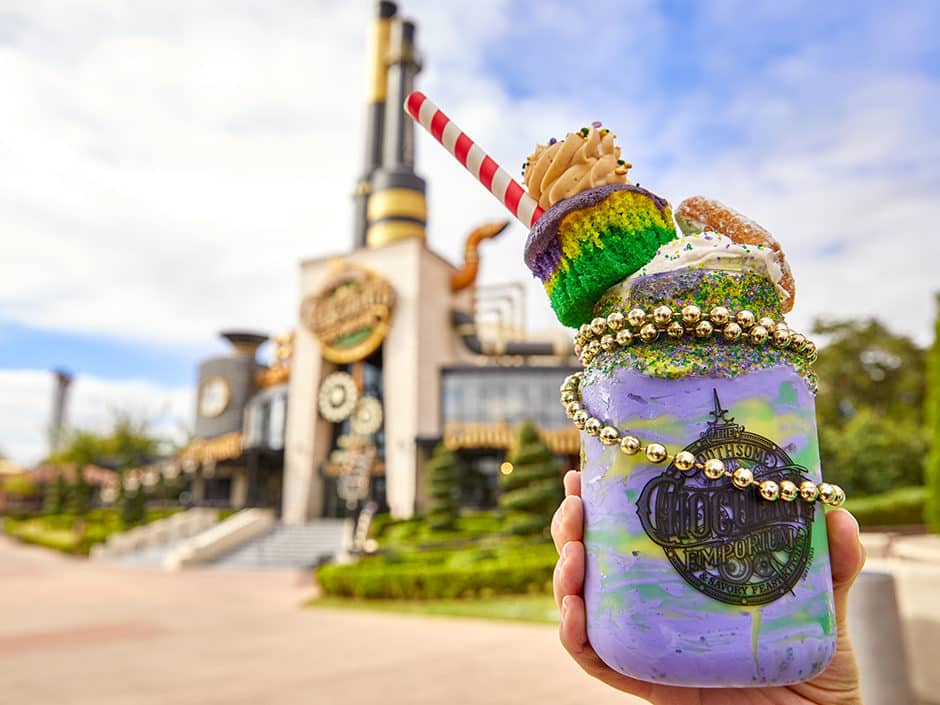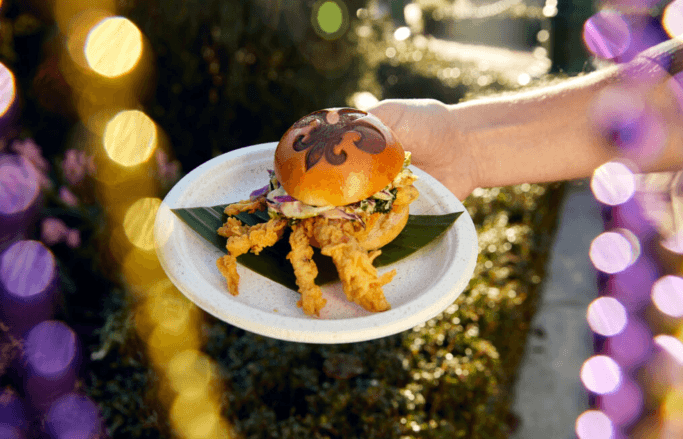 Make your way to the French Quarter Courtyard located in the New York area, loosen up your belt and get ready to try a wide variety of mouthwatering bite-sized Cajun favorites including jambalaya, shrimp gumbo, Andouille sausage, sugary-sweet beignets, and more. This is the 2nd year that Mardi Gras has decided to start serving in tasting sizes, which goes a long way to easing the previous complaints that guests couldn't keep pace with the delectable variety of treats being offered. And to make it easier to try out all the various dishes, Universal once again has the Tasting Lanyard on hand. The Mardi Gras Tasting Lanyard allows guests to try out several different food and beverage tasting portions just for one flat price.
4. It's Included with Parks Admission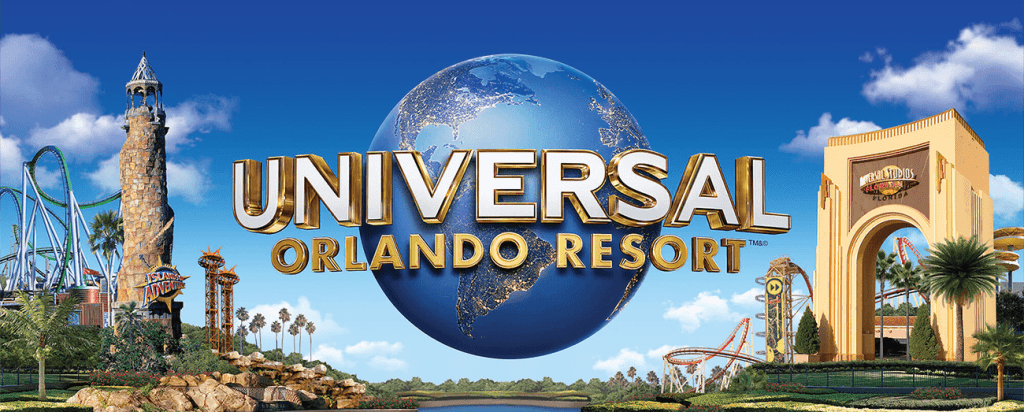 You get to enjoy both Universal Studios Florida and Islands of Adventure! Unleash your imagination at Universal Studios Florida where heart-pounding, cutting-edge attractions bring your favorite movies, television and more to life. Next door, step right into powerful stories, myths and legends at Universal's Islands of Adventure
5. This Is an Experience You Will Never Forget!!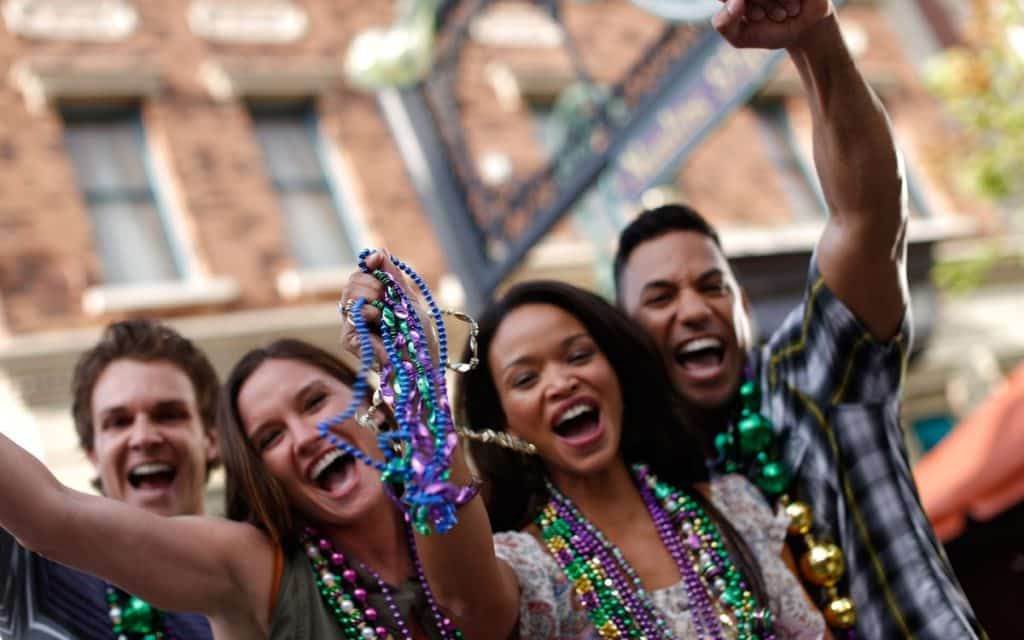 Whether you're coming for a day of family-friendly fun, or to wild out with friends, start the countdown now. Get ready to find your inner party-animal with us at Mardi Gras! You know that after 25 years; Universal Orlando really knows how to throw a party so get your dancing shoes on and immerse your family into an adventure you will never forget!!
6. Mardi Gras Tribute Store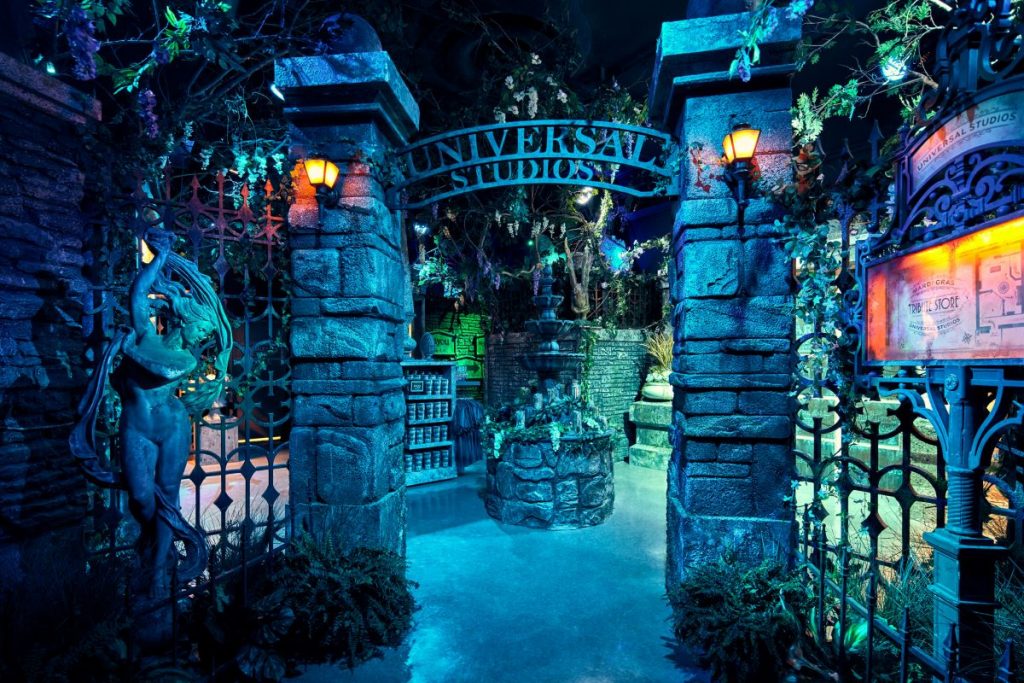 New this year, this store is loaded with all the creepy and macabre of New Orleans. Inside guests will find two rooms full of merchandise: the first room recreates a Jazz hall while the second is themed as a cemetery. This store is an attraction of its own and is a must do for all guests.
7. You have the opportunity to save money!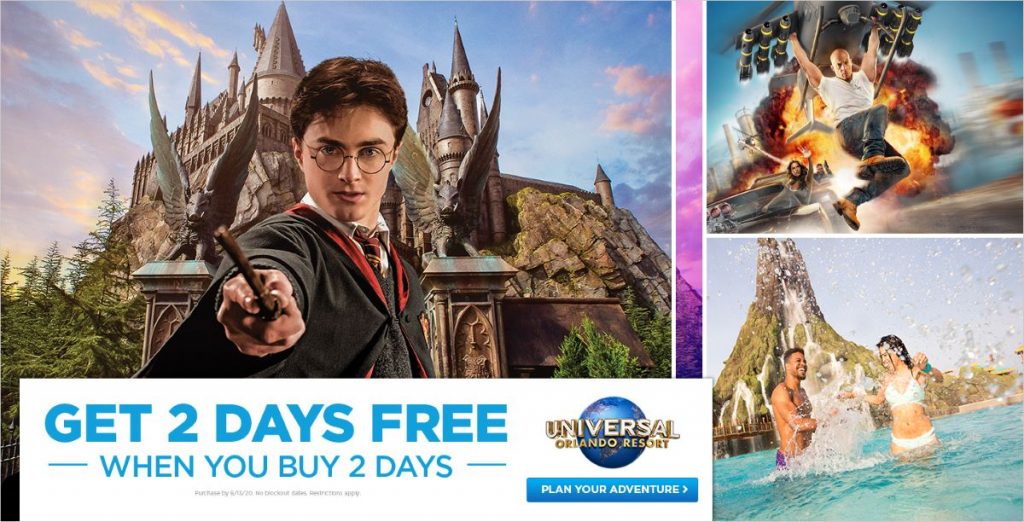 Special Offer: Buy 2 Days, Get 2 Days Free. Purchase by Aug. 13, 2020 Double the thrills with two extra days at Universal Orlando. Go all out in all three parks when you upgrade to include Volcano Bay. Use by Dec. 18, 2020 with no blockout dates.