Lets Celebrate July 4th 2019 at Orlando Theme Parks
Orlando theme parks are always bustling with excitement. Laser light shows, fireworks displays, parades and evening shows. It is hard to imagine that they could make the July 4th holiday even more spectacular. But Lets Celebrate July 4th 2019 at Orlando Theme Parks and see that is really the place to be to when the most celebrated day of the year comes. With all the new and exciting new attractions that have opened, why not enjoy even more!! Orlando Ticket Connection is the place to get the best prices and information on all your 4th of July Discount Theme Park Tickets!!
July 4th at Disney World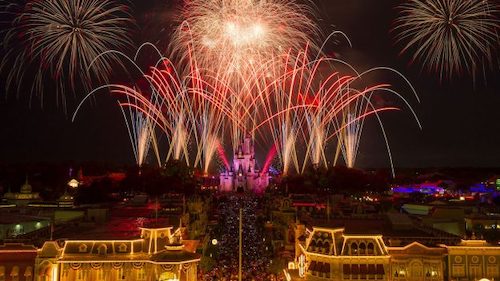 Disney World is a magical sight every July 4th, if you can withstand the enormous crowds. Patriotic parades, live music, fireworks shows, and many other special events are included in general admission.
At the Magic Kingdom, guests enjoy 'Disney's Celebrate America' on both Thursday July 3rd and Friday July 4th. Often called a Concert in the Sky, Celebrate America draws a big crowd and has a classic Disney soundtrack. The fireworks seem to come from 360 degrees. It's great to enjoy the fireworks on July 3rd, to avoid the biggest crowds.
At Epcot, at 10 pm, guests experience a special 4th of July version of the IllumiNations. The Heartbeat of Freedom is a special mix of fireworks, water fountains, pyrotechnics, searchlights, and lasers. Like all the Illuminations shows at Epcot, The Heartbeat of Freedom, takes place above the World Showcase Lagoon. This is an amazing 4th of July show, with over 2000 shells launching from 32 barges. After a dazzling 20-year run, IllumiNations: Reflections of Earth takes its final bow on September 30, 2019.
At Disney's Hollywood Studios Although Disney World 4th of July fireworks did not occur at this park in 2018, On July 6th at 9:30 pm, at Disney's Hollywood Studios, guests can attend the brand new Fireworks show, Star Wars: A Galactic Spectacular. This special event takes you to far away galaxy with a mix of Star Wars moments and stunning visuals.
Disney's Animal Kingdom hasn't announced any plans for the 4 of July, but with the New Pandora- The World of Avatar  you can still expect this park to bee extremely busy. You can still watch the jaw-dropping Rivers of Light Nighttime Experience at 9:15 pm and 10:15 pm.  Click here for Disney World Tickets!!
July 4th at SeaWorld Orlando
The Fourth of July is brighter than ever at SeaWorld Orlando's Electric Ocean. The night sky will light up with fireworks, pyrotechnics and lasers during a one-of-a-kind, patriotic finale to "Ignite," SeaWorld's end-of-day spectacle. The Independence Day firework display will begin at 9:30 p.m. and the best viewing area is from the park's Bayside Stadium.
Guests can also experience the rest of what SeaWorld's Electric Ocean has to offer. The popular evening event brings longer park hours and allows guests to voyage into an exotic underwater world filled with dazzling lights, electrifying dance music and a brilliant evening energy that sparks as the sun sets. Electric Ocean also features exciting nighttime shows, returning summer classics and a plethora of new food and drink options throughout the park.
Click here for all Discount SeaWorld Orlando Tickets!
July 4th at Universal Orlando Resort
At Universal Orlando's you can expect a grand festival! You can also enjoy a special version of the popular "Universal 360: A Cinesphere Spectacular", a cinematic adventure that combines cutting-edge projection technology with lasers and pyrotechnics to bring movies to life like never before. Admission: Included in regular park admission to Universal Studios Florida.
Click here for all Discount Universal Orlando Tickets!
With so many choices the summer, Orlando Ticket Connection is the place or all your Vacation Planning Needs, so Lets Celebrate July 4th 2019 at Orlando Theme Parks!!
Please note these days are some of the busiest of the year. If you are visiting a theme park during this holiday, you should arrive early and expect to stay for the remainder of the day.
Historically, the parks do reach capacity and guests will no longer be able to enter once this occurs.  Having a dining reservation will not get you into the park once it is closed.
Save
Save
Save
Save