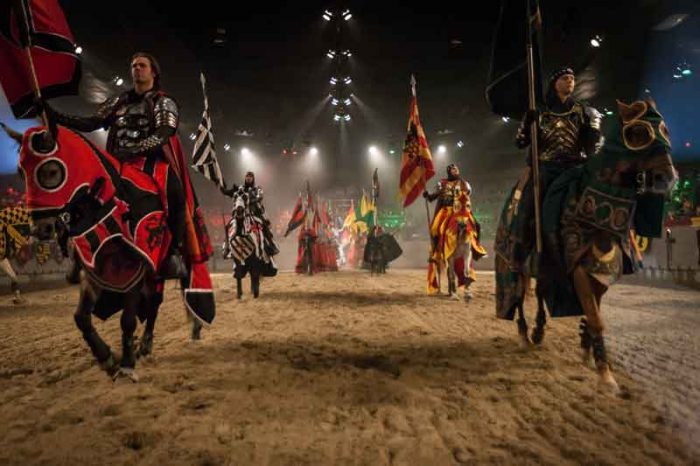 Medieval Times Dinner Show
You can travel back to the 11th Century and be treated to a one-of-a-kind dining experience that will keep you on the edge of your seat! Just like Game Of Thrones, guests will surrender to an age of bravery and honor and witness epic battles of steel and steed while feasting on a meal fit for a king.
Medieval Times Dinner Show, is North America's longest running and most popular dinner attraction. Medieval Times in Kissimmee is set within an 11th Century European-style castle. Here is where you will witness an amazing show that presents a rousing live jousting tournament and classic sword fights. You are going to marvel at awe-inspiring horsemanship and falconry. Your party is seated in the castle's climate controlled Grand Ceremonial Arena, where after being given colored crowns. They will have one of six knights who chivalrously vie for the honor of King's Champion.When your knight does something heroic you will cheer him on!
Medieval Times Feast
With so much excitement, you'll build up an appetite. The castle's serfs and wenches serve a delicious "hands-on" medieval-style four-course meal that includes: garlic bread,
tomato bisque soup,
oven roasted chicken,
herb-basted potato,
corn cobette,
pastry of the Castle,
coffee, and non-alcoholic beverages.
For vegan lovers, they offer a delectable vegetarian option. A full-service bar is also available for adult guests. All this hosted by King Carlos and Princess Catalina as the dynamic performance unfolds.
Also included in the admission for all the King's guests, is a visit to our Medieval Life Village. An authentic replica village of exhibits of art, culture and daily life dating back 1,000 years. This village is the only permanent medieval village that exists in the country. Experience the excitement!
Reservations are required.
Please indicate the preferred date and show time you want to attend during the checkout process. Orlando Ticket Connection will make the reservation for you and send you an electronic voucher with a confirmed reservation number for entrance. In the unlikely event the show is sold out, we will re-contact you with available show choices or refund 100% of your dinner show ticket price.
Hang on to your crown. The show is about to begin!
Medieval Times is located at 4510 West Vine Street, Kissimmee, FL 34746