Frequently Asked Questions (FAQs)
Below are a few of the frequently asked questions our staff receives. If after reading these, you still have questions, please call 1-855-473-7987 or contact us through our online website form.
Why should I buy from OrlandoTicketConnection.com?
We're a fully authorized, and contracted theme park ticket agency, have been in business for over 15 years and are members of the Better Business Bureau.
Our price-match guarantee ensures you pay the lowest price
With every order you will receive the OTC Triple Advantage where you can save on Dining, Shopping and other attractions in Orlando.
We are not affiliated with any time share agency and you are not required to any presentation to get your tickets.
Will I get real tickets?
Orlando Ticket Connection gives real E-Tickets to all the major theme parks except for Disney World, where you will receive a Will Call Confirmation and exchange it for tickets at the park. Upon receiving your will call via email you will select your Fast Passes so they will already be connected to your tickets upon arrival.
How does your price match guarantee work?
We will beat the price for any ticket that you see if it is sold from a reputable, authorized reseller. Sometimes other resellers post a lower price but at the check-out tack on extra fees. Please make sure you carry the ticket all the way through their checkout before contacting us.
We need the name of the reseller as well as the link showing the ticket in question, and if it meets the criteria then we will absolutely beat the price!
Contact us with the information by calling our toll-free number- 855-473-7987, or via our contact us page.
Is your site safe and secure?
Absolutely! We take our customer's privacy and security very seriously. We are Better Business Bureau accredited and they confirm we have been a member since 2009. We are secure by a Comodo – As a Positive SSL, and Merchant Account is through Authorize.net. The icons confirm our site has the highest level of encryption and security possible.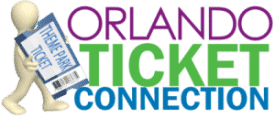 Questions?
Contact Orlando Ticket Connection by calling toll free:
1-855-473-7987
Hours:
Customer Service hours are Mon-Fri 9:00 am-4:00 pm EST. If you receive our answering service PLEASE leave us a message and we will call you back within 24 hours.