Home Page › Theme Park News - Orlando › Christmas Town™ Busch Gardens® Tampa Bay 2018
The annual holiday tradition, Christmas Town™ Busch Gardens® Tampa Bay 2018 has returned, with more than two million twinkling lights, festive treats, holiday entertainment and unique attractions, including the all-new addition of the beloved Rudolph the Red-Nosed Reindeer. Unwrap a beautiful family tradition at Christmas Town™ Busch Gardens® Tampa Bay 2018. A holiday wonderland of entertainment and attractions, holiday shopping, festive treats and more than two million twinkling lights runs from November 17- December 31. Watch out for block-out dates
Christmas Town™ Busch Gardens® Tampa Bay 2018

The popular event takes place on 23 select dates from Nov. 17 to Dec. 31, with fan-favorite entertainment and new twists:
NEW! Sing-a-long Train, guests can enjoy millions of twinkling lights, Christmas shows and Sing-A-Long Train, and visits with Santa and Rudolph® – now every day of the season – starting Nov. 17 through Dec. 31. Christmas Town features extended hours on weekends and additional select dates with even more new experiences, including an all-new holiday show, culinary treats, visits to Rudolph's® Winter Wonderland, nighttime experiences on some of Florida's best thrill rides and more. Christmas Town is included with any daily admission or annual pass, and is open until 10 p.m. on select dates.
NEW! Rudolph's Winter Wonderland:
Meet and take photos with Rudolph, Clarice, Yukon
Cornelius and Bumble at the all-new Rudolph's Winter Wonderland located in Celestial Crossing. Play holiday games and indulge in Yuletide treats while scenes of the beloved story of Rudolph the Red-Nosed Reindeer come to life.
Santa's House presented by Coca-Cola®:
The Claus family invites you into their North
Pole home at Santa's House presented by Coca-Cola®. While the elves are busy preparing for Christmas, Santa is taking a break from his busy holiday schedule to meet and take photos with families in his private study.
Thrill Rides at Night: Nestled between beautifully lit trees and roaring with excitement, some of the best views of Christmas Town can be found atop Florida's top thrill rides, including the all-new family spin coaster, Cobra's Curse™, and Guest's can also enjoy Falcon's Fury 335-foot freestanding drop tower. It's one thing to drop 300 feet. It's a whole other for your seat to pivot 90° – then drop you face-first at 60 mph.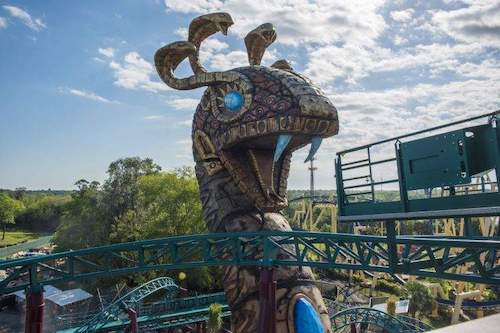 Christmas Town™ Busch Gardens® Tampa Bay 2018 is included with daily admission to the park. Buy your tickets at Orlando Ticket Connection and save! From world-class rollercoasters and Broadway-style entertainment to one-of-a-kind, up-close animal encounters, Busch Gardens Tampa Bay continues to deliver some of the biggest thrills anywhere. Unwrap a beautiful family tradition at Christmas Town, one of the premiere Busch Gardens Tampa events perfect for celebrating the holiday season. Busch Gardens transforms into a holiday wonderland of Christmastime entertainment and attractions, holiday shopping, treats and more than a million twinkling lights.