Star Wars – RISE OF THE RESISTANCE , which Disney says will "blur the lines between fantasy and reality. It will put guests in the middle of a climactic battle between the First Order and the Resistance," will open Dec. 5, 2019 at Walt Disney World and Jan. 17, 2020 at Disneyland.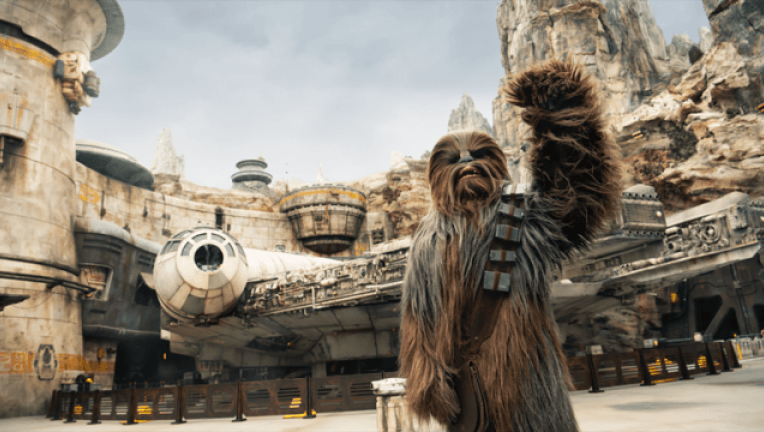 The 14-acre Galaxy's Edge themed land opened at the end of May at Disneyland in California. A near-identical version opened Aug. 29 in Florida. Star Wars: Rise of the Resistance is a massive, multi-platform, new attraction that is unlike anything you've ever experienced at Walt Disney World Resort… or anywhere else in the galaxy!
You will be recruited to join Rey and General Organa at a secret base. Along the way, expect to be captured by a First Order Star Destroyer. With the help of some heroes of the Resistance, you will break out and escape the Star Destroyer. In order to protect the secret base you must stay one step ahead of Kylo Ren. The battle Darth Vader will cause you to jump into hyperspace on Star Tours and Millennium Falcon: Smuggler's Run. These are Disney's other Star Wars attractions, but neither should come close to Rise of the Resistance's realism. That's because it's not just a ride — it's multiple rides in one.
Those Death Star-fueled nightmares from childhood will soon become reality as you encounter an army of Stormtroopers, break out of space jail and pass underneath the legs of AT-ATs as you plot your escape.
Star Wars: Rise of the Resistance is one of the largest attractions Disney has ever created. Its massive show building is a world unto itself, housing two full-sized AT-AT walkers and a Star Destroyer hangar bay – complete with a TIE fighter and a garrison of Stormtroopers – plus more thrills and surprises.