2019 will be a vital year in the busy Central Florida theme park industry. Every major park is set to add new attractions, hotels, restaurants and even new lands this year, and how those new attractions are received could mean drastic changes to the Disney-Universal competition, the International Drive hotel market and the battle for the youngest theme park visitors.
Here's a rundown of the 6 Biggest Central Florida Theme Park Openings in 2019: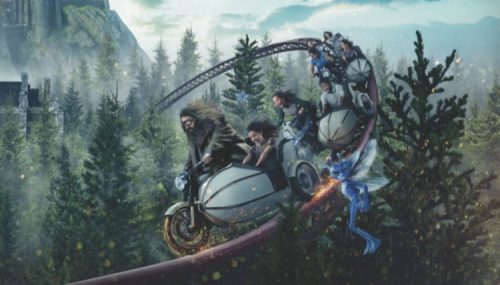 1. New "Harry Potter" coaster "Hagrid's Magical Creatures Motorbike Adventure"
Universal has been very tight-lipped about the new attractions coming to its Orlando parks in 2019, but it's hard to miss all the construction taking place on the former site of Dragon Challenge. The new "Harry Potter"-themed roller coaster appears to be set in the Forbidden Forest adjacent to Hogwarts Castle and will contain several indoor elements.
"Opening in 2019 at Universal's Islands of Adventure theme park, the new experience will become Universal's most highly-themed coaster yet — immersing guests in an all-new adventure that is the next installment of the Wizarding World brought to life at Universal Orlando Resort," Universal said in an October 2018 press release.
Universal has said little else about the ride or its other 2019 addition, an unnamed show replacing Terminator 2:3D in Universal Studios Florida.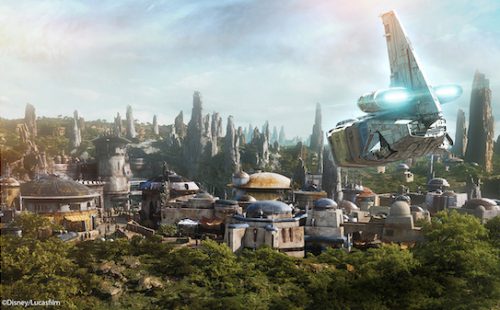 2. Star Wars: Galaxy's Edge
Arguably the most highly-anticipated addition in Disney World's history, the 14-acre addition to Disney Hollywood's Studios is the Mouse's answer to the immersive design of Wizarding World of Harry Potter at Universal. Along with transporting guests to a galaxy far, far away with "Star Wars"-themed shops and a cantina, the land will also feature two new rides.
Millennium Falcon: Smuggler's Run will put guests in the cockpit on Han Solo's famous ship, having to fulfill their role as pilot, gunner, or flight engineer. The other attraction, Star Wars: Rise of the Resistance, places guests in the middle of a space battle with the First Order.
According to Disney chairman and CEO Bob Iger, these are "the biggest lands" that Disney has ever built.
"Not only are they big in size and scale, they are huge in ambition in terms of both the experience that we aim to create, meaning the immersive experience, as well as the specific experiences people will have and the attractions namely in both cases too, very, very innovative and we believe compelling and exciting e-ticket attractions," Iger said in November 2018.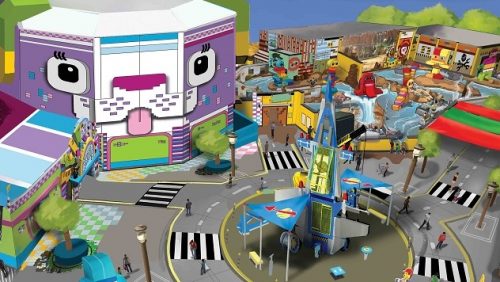 3. Lego Movie World
What Legoland Florida is calling its largest investment ever, Lego Movie World will recreate the city of Bricksburg seen in the 2014 film. It will also include three attractions: Lego Movie Masters of Flight, a flying theatre attraction with a 180-degree turn after riders have been seated, Unikitty's Disco Drop, and Battle of Bricksburg, a rethemed version of the park's Quest for Chi boat ride.
Given Legoland's target demographic of kids aged 2 to 12, it will face competition for the younger end of that group from SeaWorld Orlando's Sesame Street, also set to open in 2019. While SeaWorld's addition has the more established brand, none of its attractions will be entirely new; all six in the Sesame Street area will be rethemed versions of existing rides from the former Shamu's Happy Harbor section of the park.
4. Tigris Roller Coaster at Busch Gardens Tampa
Busch Gardens Tampa Bay brings a new level of excitement with FLORIDA'S TALLEST LAUNCH COASTER to open spring 2019.
An innovative experience, Tigris will catapult riders through an exhilarating array of looping twists with forward and backward motion, breath-taking drops, a 150-foot skyward surge, and an inverted heartline roll, all at more than 60 miles per hour. Tigris will race riders along more than 1,800 feet of steel track designed to mimic the awe-inspiring agility of the world's largest and most powerful cat –the tiger.
5. The Incredibles at Pixar's Place Hollywood Studios
Everyone's favorite superheroes have taken over Disney's Hollywood Studios already but it's incredible! In celebration of the theme park's 30th anniversary, The Incredibles have entered Pixar Place and they're bringing all-new experiences for park guests and a few of their old Pixar friends.
After months of revamps, Pixar Place has finally reopened at Disney's Hollywood Studios and it's more incredible than ever before. As part of its new look, for a limited time, the area has been completely themed to resemble a Municiberg city block from Disney/Pixar's "The Incredibles" film. As per the new theming, the area now features new experiences themed after the super hero film.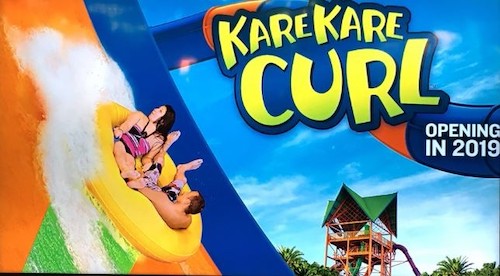 SeaWorld's Aquatica opens KareKare Curl,
In 2019, Aquatica will open a new thrill slide called KareKare Curl. Holding two passengers per raft, the new slide will take guests on an exciting, weightless adventure. Climb a vertical wave wall! Experience a feeling of weightlessness aboard KareKare Curl, Aquatica's newest adventure coming in 2019. "KareKare" means "waves" at Aquatica and when you combine that with "curl" meaning in a curved shape – you have a "curved shaped wave," which is exactly what riders will experience when they climb the ride's vertical wave wall. True to its name and holding two passengers, this new slide delivers a high-adrenaline, weightless adventure, making Aquatica Orlando's leaders for waterpark thrills.
Inside the park, another team is in the process of getting the land ready, where KareKare Curl will sit. It is right between Omaka Rocka and the side-by-side wave pools, Big Surf Shores and Cutback Cove. When it opens, the new attraction will tower 5-stories above the park's white sandy beaches.
Ready to start planning your 2019 Central Florida holiday? Click here, to view some of the best value for Discount Orlando Theme Park tickets! Orlando Ticket Connection is your vacation planning genius! With these 6 Biggest Central Florida Theme Park Openings in 2019, kinda makes you wonder what is coming in 2020!