Hagrid's Magical Creatures Motorbike Adventure ™ Coming This Summer. The epic new addition to The Wizarding World of Harry Potter will fly into Universal Orlando Resort and become the most highly themed, immersive coaster experience yet. Today, all-new details have been revealed about the magical new adventure that will open June 13, 2019. Guest fly deep into the Forbidden Forest, beyond the grounds of Hogwarts™ castle, on a twisting roller coaster ride to discover the rarest magical creatures.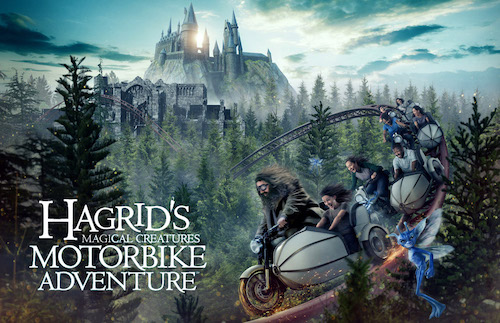 Hagrid's Magical Creatures Motorbike Adventure™ Coming This Summer
Hagrid's Magical Creatures Motorbike Adventure will combine a new level of storytelling and innovative coaster technology with opulent locations and sets – including an actual forest, not an illusion, with more than 1,200 live trees. Expect to meet quite a few of Hagrid's horrid friends on your trip, such as Cornish Pixies, the welcome return of Fluffy the three-headed dog, and a new beast, never-seen-before in the films. Ooh, fingers crossed for Flobberworms!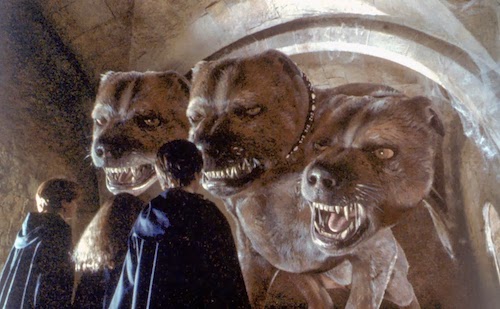 Fluffy the three-headed dog
It all begins when guests (starting at 48" tall) join Hagrid's Care of Magical Creatures class and board magical motorbikes specially designed to make them feel the freedom of flight. Guests will either ride the motorcycle or board the adjacent sidecar as they embark on a journey that will bring them closer to some of the wizarding world's rarest magical creatures. But as they make their way through the Forbidden Forest…things don't go as planned. During the adventure, guests will experience a freewheeling coaster flight where they'll twist, turn and rush forward – and backward – at speeds up to 50 mph into the dark forest. Blastoff past stimulating obstacles, become intertwined in a thicket of Devil's Snare and so much more…while encountering a few surprises along the way.
Robbie Coltrane, who portrayed the gamekeeper across the Harry Potter films, said of the ride, 'It's hugely cool. I was thinking about it today, and I was just thinking – "Hagrid would have really loved it."'
Robbie also praised the design of the ride and the addition of the Forbidden Forest ('Hagrid knew how to play the spiders!') and teased that the ride will be full of rocky surprises.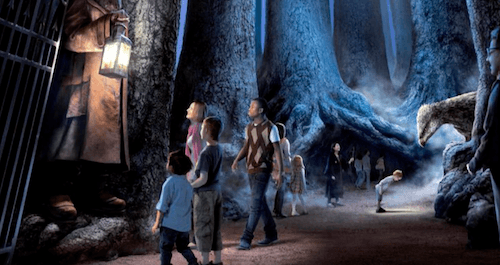 Forbidden Forest
'There's an element of things going wrong, which is hilarious. It's so funny, it's so clever, and how they do the engineering – I simply don't know.'
'I think it's a wonderful idea,' the actor added. 'It's very cleverly written – because it sort of lets them know what to expect, but it also lets them know not to expect anything. And of course, kids love that. "Is it going to be scary, is it going to be scary?" "…it might be…" Keep the mystery going, that's what I say.'And when it opens on June 13, 2019,Hagrid's Magical Creatures Motorbike Adventure™ Coming This Summer, will join the lineup of award-winning entertainment experiences in The Wizarding World of Harry Potter and bring an all-new adventure inspired by J.K. Rowling's beloved stories to life.
When you put together Universal Orlando and summer together you get an EPIC Vacation! Make sure to buy your Universal Discount Tickets from Orlando Ticket Connection and save money and time!