Disney announced that Disney Skyliner Gondolas Opens September 29th and will connect Disney's Hollywood Studios and Epcot with three Disney World Resort hotels: Disney's Art of Animation Resort, Disney's Pop Century Resort, Disney's Caribbean Beach Resort.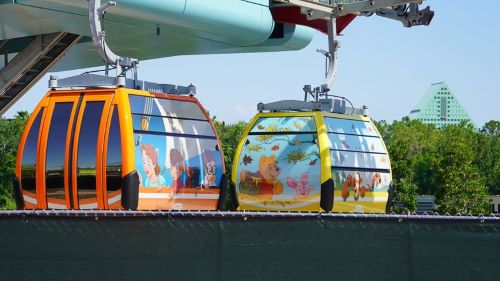 Disney Skyliner Gondolas Opens September 29th
The Disney Skyliner Gondolas are the newest transportation system in Walt Disney World, roughly based on the old Disney Skyway buckets in the Magic Kingdom. These however are much bigger, and built to carry guests from hotels to parks and are an alternative to the Disney bus system or other forms of public transportation. They are being designed by the Doppelmayr Garaventa Group which is an Austrian company that manufactures chairlifts, gondolas and cable cars for ski and amusement parks. They also have experience building urban people moving systems, and have produced over 14,600 installations in 89 countries.
D23 Expo
The Skyliner was announced in 2017 at the D23 Expo when Bob Chapek explained Disney's commitment to improving transportation in Walt Disney World. Construction began on the Skyliner in 2018. Riding in the Disney Skyliner will be a unique transportation experience in Walt Disney World. Being in an elevated position will allow guests to have a bird's eye view of the resort in places they've never seen like that before. Think the same way the Monorail system allows you, but in new places.
Contrary to what was originally thought about the Disney Skyliner Gondolas, this newest transportation to the Walt Disney World Resort will NOT have air conditioning as has been confirmed by Disney, however it does look like there will be significant airflow through them.
6 Skyliner stations
The Disney Skyliner Gondola system will transport guests to and from many Walt Disney World locations. These include theme parks and hotels. During the initial launch there will be 6 Skyliner stations including the following.
Epcot Park
The Epcot station is located right outside the International Gateway and brings guests to the back door of Epcot in between France and the UK. Perfectly located for guests staying at the Yacht and Beach Club Resort, The Boardwalk
Inn, or Swan and Dolphin.
Disney's Hollywood Studios
This might be the busiest station and be the one with the longest lines once Star Wars Galaxy's Edge opens up. It will be awesome though to see Batuu from the sky as you land at the station.
Disney's Caribbean Beach Resort
The Caribbean Beach Skyliner station is the "main hub" so to speak of the Disney Skyliner with all three lines departing from here. Guests going almost in any direction will eventually land here and then exit their gondola and choose the direction they want to go in next.
Disney's Riviera Resort
Once of the main benefits of staying at Disney's newest DVC resort, Disney's Riviera Resort, is that you are right on the Disney Skyliner line perfectly positioned between Epcot and Hollywood Studios.
Disney's Art of Animation Resort / Disney's Pop Century Resort
The Art of Animation and Pop Century Resorts share this Skyliner station which is positioned right in the middle of a walkway linking the two resorts together over a lake. A perfect move to have two of the biggest resort hotels on property accessible to the Skyliner.
Turn Station (you can't actually get off here)
This is where it will turn around and start back to the way it came. So you are able to ride the Skyliner just for the adventure!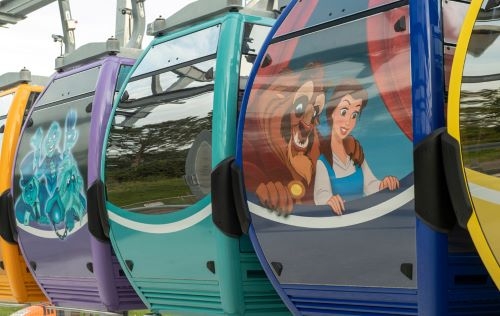 Disney characters on the outside
Skyliner Gondola Cars Outside:
There are going to be 2 types of Skyliner gondola cabins, ones with solid colors, and the other with the Disney characters on them. The characters unfortunately are not going to be on all of the gondolas, but only select ones. This is probably to leave things open for future characters to be added who don't even exist yet, and a question of saving money.
Orlandoticketconnection.com is so excited that Disney Skyliner Gondolas Opens September 29th. We will keep you abreast of any news. Make sure you get your Discount Disney Tickets in advance and Save!!