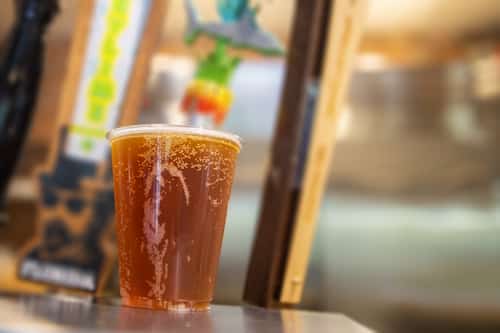 Free Beer Comes Back to SeaWorld this Summer
Starting Saturday, May 25 through September 2 from 10:30 a.m. to one hour before park close, guests 21 years of age and older can pick up one complimentary, 14-ounce domestic beer at Mama's Pretzel Kitchen Patio Bar per day. What better way to spend your day than when Free Beer Comes Back to SeaWorld this Summer.
Park guests at SeaWorld Orlando are also invited to enjoy weekday Happy Hour at 4:00 p.m. all summer long May 10 through September 2. Happy Hour will feature buy one, get one free offers on beer, wine, call liquor cocktails and non-alcoholic beverages at Flamecraft Bar, Shark's Underwater Grill Bar and Waterway Grill Bar.
Starting in Jan. 2019, all park visitors 21 and up could enjoy free beer at Busch Garden's Tampa Bay and SeaWorld. "[W]e've committed to bring that promotion back to both parks [SeaWorld Orlando and Busch Gardens Tampa Bay] this summer," CEO John Reilly said on the matter. "In fact, our free beer promotion will be available year-round at Busch Gardens Tampa Bay starting in January as part of their 60th-anniversary celebration."
The promotion, which had previously been terminated in 2009, was given a revival throughout the summer of 2018. Park-goers could redeem two complimentary 7-ounce beers during their visit between until Aug. 5 at Garden Gate Café. Not so surprisingly, with the re-addition of the free beer, Busch Gardens and SeaWorld reported a rise in park attendance. While it's not the definite cause of the increased traffic (both parks also introduced a new four-tiered pass-holder system that offers their own benefits) analysts believe that the boozy perk definitely played a significant role.
SeaWorld Entertainment Inc. reported that park attendance numbers were up by 1.4 million visitors compared to the first three quarters of last year. Park attendance had dramatically dwindled in recent years after documentary "Blackfish" questioned how staff treated its orca whales..
Orlando Ticket Connection is your one stop shop for ALL SeaWorld Discount Tickets. We are now offering the all day dining that you can add to your ticket. This is a tremendous saying since you can eat FREE every hour you are at the parks. Take that into consideration your family members and the amount of days you decide to go and you just can't beat the price!!