When it's Christmas in Orlando, do you find yourself missing the white wintery wonderland other states enjoy? Do you look around at the palm trees basking in sunshine while still wearing shorts in mid-December and consider packing up your life and moving north? There is a way to experience festive winter-like Christmas without leaving the Central Florida with a Holiday Celebration 2018 At SeaWorld Orlando.
Holiday Celebration 2018 At SeaWorld Orlando
On select nights from November 17 to December 31, Santa Clause is coming to town. He's bringing Rudolf and the gang, and they're setting up his workshop at SeaWorld's Christmas Celebration. Guests can visit him there and make timeless memories with excellent photo opportunities. But that's only the beginning, there's so much more to discover with the Holiday Celebration 2018 At SeaWorld Orlando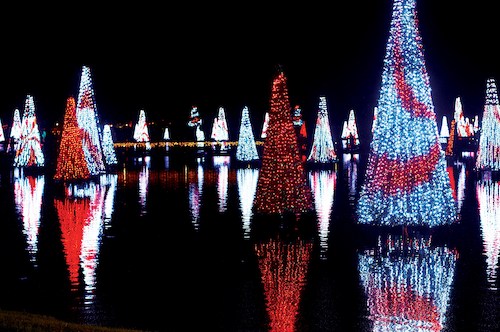 Festival of the Trees
The yuletide mood is set with the glistening Sea of Trees sparkling red and green and white in the center of the park. Stroll through the market along the Bayside Pathway where the air is filled with the scents of cinnamon and spice and the sounds of carolers infuse your spirit with merriment. You can mark names off your Christmas shopping list with gifts from the artisans selling their one-of-a-kind wares or snuggle up with loved ones and friends in front of the fire pit with a holiday craft brew. Stroll through the model train village, and all the while watching out for the playful elves and laugh out loud at a gang of street performers that bring brightness and joy.
Clyde and Seamore Countdown to Christmas
Clyde and Seamore Countdown to Christmas in Orlando is a hilarious seasonal show. It begins when Elmo and all his Sesame Street friends arrive with a Christmas wish offer fun musical celebration. Discover the lovable sea lions who are joined by a comical elf, jolly walrus and mischievous otters for a fun Christmas celebration.
O Wondrous Night
The night is wondrous with the O Wondrous Night live nativity – with over 30 carols, life-sized puppets, and live animals, it's a version of The Christmas Story you won't see anywhere else. This live nativity show at Nautilus Theater brings the story of Christmas to life through the viewpoint of the animals that were there. The show features life-size puppets, special effects, live animals and over 30 carols to delight your entire family. O Wondrous Night is a peaceful, joyous celebration that will wow your whole family.
Are you ready for the Waves of holiday spirit that will splash over SeaWorld Orlando, during Holiday Celebration 2018 At SeaWorld Orlando? It's time to experience a wintery, watery wonderland, and it can all be found with Orlando Ticket Connection's Discount SeaWorld Multi-Day Tickets. Get check out one of our Orlando Theme Park Combos and enjoy not just SeaWorld Parks but also Universal Orlando! Try the  Unlimited for 14 Days with FREE Parking at all 4 of SeaWorld Parks, or choose the SeaWorld with ALL Day Dining, where guests of all ages will enjoy loads of frosty fun as they watch stunning live shows and attractions while feasting on a delicious, dining extravaganza!