Don't let a hurricane destroy your vacation!
Hurricane Dorian is posed to strike Florida during this Labor Day weekend, leaving many would-be Orlando tourists wondering just how to personally prepare, if the resorts are adequately prepared, or if they should reschedule their vacations entirely. The parks are currently scheduled to remain open, but that will more than likely change very soon. Some of you may have planned your vacation months ago and may already arrived in Orlando. There are some that are scheduled to come this weekend or the coming weeks, don't know what to expect. Most will enjoy a very untroubled trip, however since there is always the possibility that bad weather could disrupt your plans, Orlando Ticket Connection is dedicated to making sure you have Hurricane Info for Orlando Tourists!, so you can have a safe and successful vacation!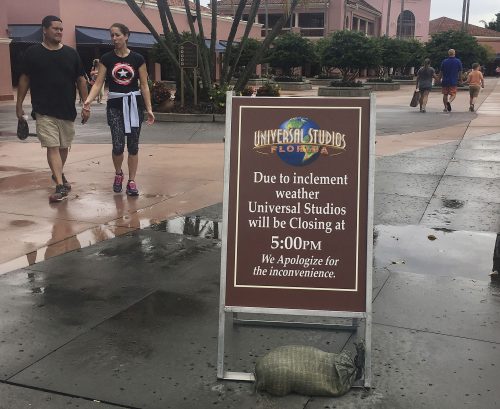 Hurricane Info for Orlando Tourists!
When Hurricane Irma came through in 2017, all of Central Florida's Theme Parks did close a couple of days in advance did close the gates a couple of days in advance, because of Irma and its impact upon central Florida. While Irma took its time getting to the area, it ended up making a direct hit on the theme parks early that Monday, with the remnants of its eye wall blasting from Legoland Florida in Winter Haven to Walt Disney World, then SeaWorld and finally Universal in Orlando.
While Hurricane Dorian is still a few days away, the storm will most definitely have some sort of effect on Central Florida and the Theme Parks. While the theme parks have not announced publicly how they will handle the coming storm, Orlando Ticket Connection wants to you to keep the following points in mind as the Central Florida theme and water parks start to brace for potential weather disruptions:
Rescheduling and Refunds
If you have purchased your tickets from Orlando Ticket Connection and a hurricane warning is issued by the National Hurricane Center for the Orlando area, or for your place of residence, within seven days of your scheduled arrival date, you may reschedule or cancel your vacation. You will received a refund minus a 20% processing fee. This of course is only valid if the tickets have not been used.
Furthermore if you have a Disney Will Call Confirmation and have already selected your FastPass with the DisneyMyExperience link, a refund is not an option. If you would like to reschedule please contact our customer service department as soon as possible so we can take care of it. You can do so by calling 855-473-7987 or by emailing us at info@orlandoticketconnection.com.
Your safety is the upmost importance of every theme park in Central Florida. Due to this, they all have similar severe-weather cancellation policies in place. If you have purchased your tickets directly from one of the parks, you will need to contact them.
"If you're staying at a Universal Orlando or Disney World hotel, they will likely try to add some extra entertainment when the parks close," he said. "While it may not be visiting Hogsmeade or Galaxy's Edge, If you keep an open mind, they can still have fun at the hotels and all while most importantly remaining safe."
All visitors should also pay close attention to weather coverage and ultimately make an informed decision about their safety.
Important Central Florida Weather Tips
1. Sunscreen with an SPF of 30 or higher and an umbrella are great for any trip when traveling to Central Florida but if you are vacationing here during hurricane season you might want to prepare yourself and your family members just in case you are caught off guard by the extreme weather.
2. The average temperatures in Orlando range from a low of 48 degrees in January to a high of 92 degrees in July and August. Year-round, rain showers are common but usually brief. During the months of June through September, it can be hot and humid, with sudden, rain showers appearing in the afternoon. Light clothing that draws the sweat from your body, and a raincoat or poncho for travel during these months, are good items to consider. Other months are milder and drier, so pack layers of clothing, particularly for trips during November through April.
3. The potential for a Hurricane to intrude upon your vacation would be from June 1 – November 30, when Hurricane Season is in full swing. Orlando Ticket Connection understands that you may be having some apprehension about the possibility of a hurricane affecting your planned Orlando vacation. However MOST of the odds of that happening are very low. We suggest the when you make your travel plans during hurricane season, that you check with airlines, hotels, car rental, etc. to find out how they inform their guests when a hurricane is coming, and what actions they plan and what refund policies they have in place. Once again, it is important to point out a direct hit by a major hurricane is an extremely rare event.
Other tips you may want to do if planning your vacation during hurricane season are:
• Check hurricane policies and weather guarantees offered by your resort or vacation planner.
• Check predictions for the current year at the National Hurricane Center.
• Check about travel insurance, gas, cash, etc.
• Get real-time advisories for hurricanes/tropical storms at National Hurricane Center – www.nhc.noaa.gov
Orlando Ticket Connection can't predict the weather, but we can make sure you get the information you need as well as the best prices in town!!
Save
Save
Save