If your spring vacation includes any or all of the 3 Parks at Universal Orlando Resorts, Universal Studios, Islands of Adventure, & Volcano Bay, it can take some preparation to make the most of your Universal Orlando vacation, but we have put together the Top 6 Tips for the Universal Orlando Promo Ticket –Buy 2 Days and Get 2 Days FREE.
Top 6 Tips for the Universal Orlando Promo Ticket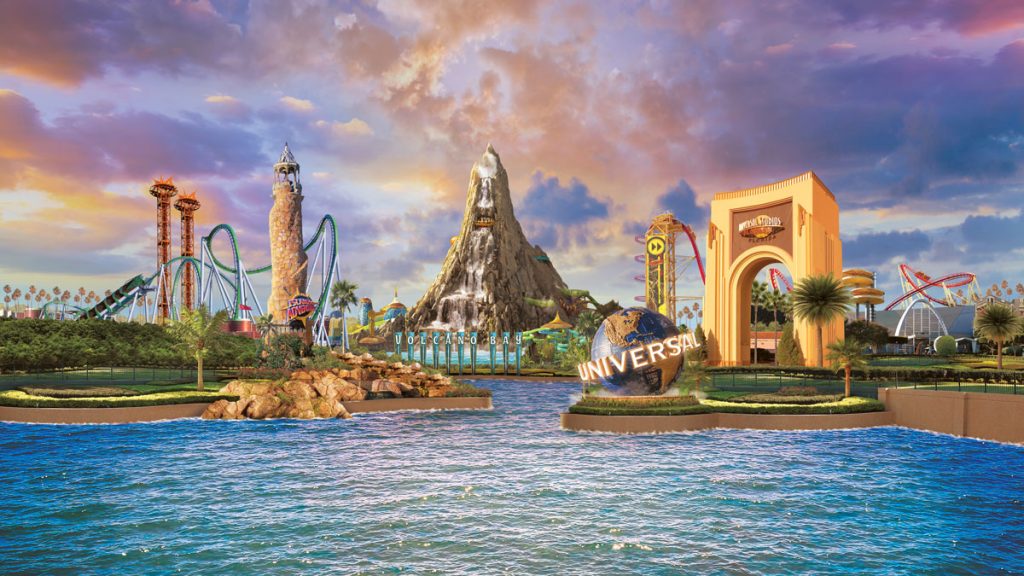 TIP # 1
EARLY ADMISSION
If you decide to stay onsite at one of the incredible Universal Orlando Resorts, then Early Park Admission is automatically included. You will get an extra HOUR in the parks before they are open to the public. You can ride some of the most popular attractions with little to no wait at all. When you do check in, each member of your party will be given a room key, which serves several functions: it's your proof for Early Park Admission, it can be used for resort-wide charging, it opens the security gate when exiting the hotel's parking area, and, of course, it unlocks your hotel room. Not only do you want to get to the parks as early as possible, you will also want to stay until the park closes to get the full experience each one has to offer.
Here is a list of attractions that are part of the Early Admission:
Universal Studios Florida™
Despicable Me Minion Mayhem™
Harry Potter and the Escape from Gringotts™
Ollivanders™
Universal's Islands of Adventure™
Flight of the Hippogriff™
Harry Potter and the Forbidden Journey™
Ollivanders™
Volcano Bay Water Park™
Krakatau Aqua Coaster
Ko'okiri Body Plunge
Kala and Tai Nui Seprentine Body Slides
Honu ika Moana
Ohyah and Ohno Drop Slides
Puihi of the Maku Puihi Round Raft Rides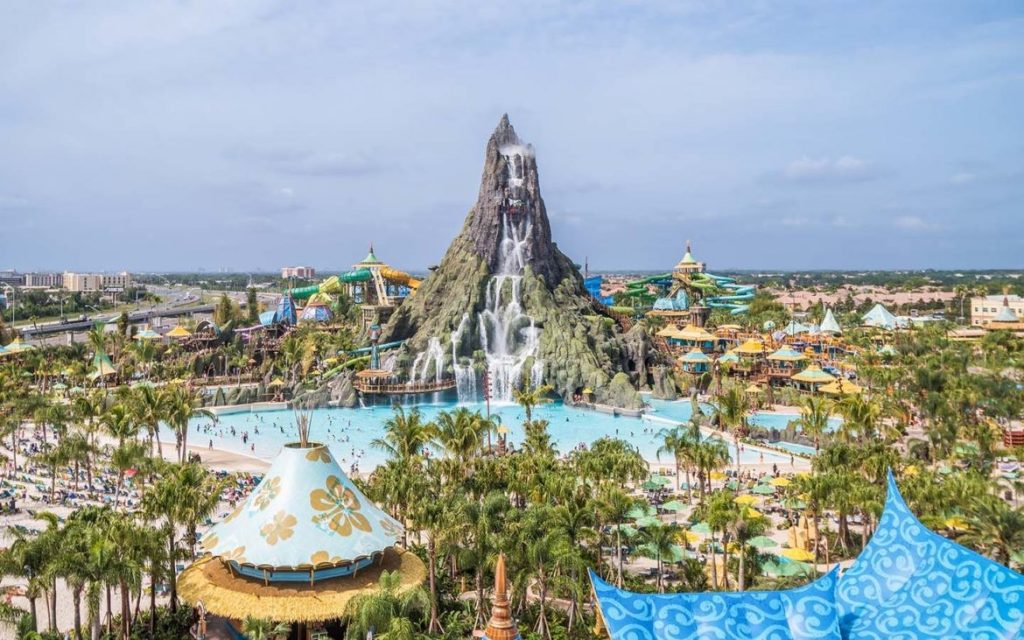 Tip # 2
Prepare a daily schedule in advance
The Universal Orlando Spring Promo Ticket has several options that you are going to choose from:
If you chose the 2 Park Base ticket get 2 free, you can visit both Universal Studios and Islands of Adventure for 4 Days one park per day, The 2 Park ticket also has the park to park feature that gives the guest the ability to go back and forth between both parks esch day for 4 days. There is also the 3 Park base promo ticket you can visit ALL 3 Universal Parks ONCE each day, for 5 days or the Park to Park feature gives you the option to go back & forth between all three parks each day for 5 Days. With any ticket you have 7 days from the date of purchase to complete the ticket.
Now that you understand the ticket, you can make your daily plans. Choose the park that you are going to visit each day, (or all of them). Depending on the age group in your party you can decide the attractions & rides. Here is where you will want to find out the show times and locations in the park. The Universal park map is invaluable at this point or you can even download the Official Universal Orlando Resort™ App, available in the IOS app store or Android.
Tip # 3
Buy an Express Pass
If you stay onsite at the Royal Pacific Hotel, Hard Rock Hotel, or Portofino Bay Hotel you will get the Express Pass for FREE. Think twice about "saving money" by staying at the Cabana Bay, Sapphire Falls, or Aventura Hotel – you still get early admission but no Express Passes when you stay there.
The Express Pass might not be needed or that valuable to you and your family, and since you have 5 days at Universal Orlando you might decide that it's not worth it, but if the parks are busy (think Spring Break, Summer, or Christmas) the Express Pass will save you loads of time and stress. Nearly all attractions have an Express entrance or line, and each time you are going through the Express line you'll save anywhere from five minutes to an hour.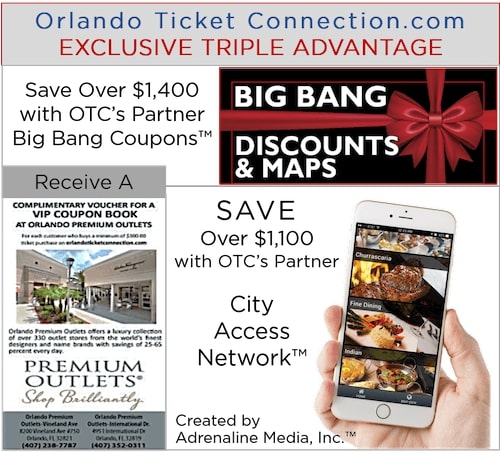 Tip #4
OTC's Triple Advantage is Available
Orlando Ticket Connection is the ONLY Discount Theme Park Tickets re-seller that offers the TRIPLE ADVANTAGE! On all ticket orders over $300, you will receive a FREE discount coupon book link with discounts on restaurants, area attractions and golf valued at $4,000.00 for a family of four. Experience the best that Central Florida has to offer at the very best prices!!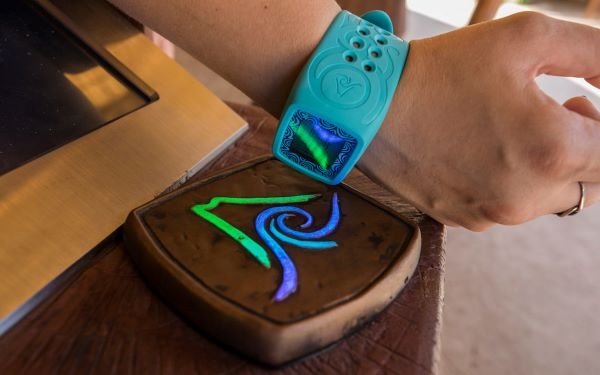 Tip # 5
Using TapuTapu™ at Volcano Bay
When you arrive at Volcano Bay™, you'll receive a TapuTapu™ to wear on your wrist. It's your key to having an amazing day—you'll use it to ride most of the attractions, trigger interactive surprises, open rental lockers, make cash-free payments and more. The best things about it is you don't have to bring any purses, or wallets because EVERYTHING you buy is put on the band.
Volcano Bay guests will use their TapuTapu wearable which will simply alert them when it's time for their ride. Or, they can enjoy many TapTu Play experiences throughout the park – triggering special effects like controlling streams of water spurting from whales in Tot Tiki Reef, shooting water cannons at guests snaking down Kopiko Wai Winding River, illuminating images in the volcano's hidden caves and more.
Tip # 6
Be aware of Block-out Dates & Expirations
The Universal Orlando Spring Promo Ticket must be used on or before December 18, 2020 . All ticket usage must be completed on or before December 15, 2020, when the ticket will expire in full. NO BLOCKOUT DATES with this ticket! Unused days will be forfeited. Purchase dates are from February 13, 2020 to August 13, 2020.
Orlando Ticket Connection strives to give the best customer service as well as the most competitive prices, so take advantage of the Universal Orlando Spring Promo Ticket -3 Park Buy 2 Days and Get 3 Days FREE!