The heat is on for Central Florida theme park visitors and as the summer days heat up, it will be hot and crowded in the theme parks and temperatures can easily climb into the 90s with a heat index into the 100s. Here are Top 7 Tips for Beating the Heat at Orlando Theme Parks so you can enjoy your vacation.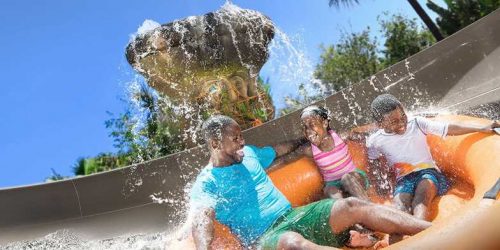 Top 7 Tips for Beating the Heat at Orlando Theme Parks
1. Bring sunscreen. Don't make the mistake of thinking that if you're not in a bathing suit, you won't need it. The last thing you want is to get sunburned and it can happen just by walking around the parks. Especially be careful with young children. A horrible sunburn can ruin your whole vacation!
2. Drink 4 to 6 ounces of water every 15 to 20 minutes. Try freezing water bottles the night before. You can choose to bring bottles of water with you to the parks, but sometimes that may not be enough. There are water fountains everywhere inside the parks, so be sure to refill your bottles. You can also get a free cup of ice water inside each counter service restaurant if you can't locate a water fountain nearby.
3. Maybe, buy a water-misting fan but do it before you get into the parks. If you wait you could pay at least $20 for one. If you have kids, you know that they'll be fighting over it so be smart, get them cheaply and pack extra batteries.
4. Wear light-colored clothes, UV-protective sunglasses and wear a wide brim hat you'll appreciate it when your head's been baking in the sun and you start to feel the effects of it.
5. If you're staying at one of the many theme-park hotels, take advantage of it. Take the family to cool off an relax there during the hottest hours.
6. Take into consideration the children's point of view. While you're looking at castles and characters, they're in a hot stroller looking at, well, to put it nicely, posteriors. They're bound to get irritable considering the heat and what's at eye level. An ice cream break or simply stopping in an air conditioned store for a few moments can help.
7. Know which attractions are the "coolest" (from the heat that is). Water rides, and attractions with an indoor air-conditioned queue is a great choice. Standing in line won't be so bad when your family is cool.
Escape the heat in Magic Kingdom.
Space Mountain in Tomorrowland is one of the most popular rides at Magic Kingdom, but it is also one of the coolest. While wait times might be long, you will be waiting in the cool inside, until you reach the launching platform.
If you can stand the heat for a little while Splash Mountain is the attraction that you want to enjoy!! More than likely you'll get wet which feels great on a hot day! Make it a shorter wait by utilizing your Fast Pass!
But if you need to cool-down for some time the best bet would be to head for the shows. Country Bear Jamboree and Monsters Inc. Laugh Floor are good for 15-minute shows each. While the longest show at the Magic Kingdom is Walt Disney's Carousel of Progress at 21 minutes, the wait is completely outdoors. For a longer cool-down, try the Hall of Presidents, where you can relax in the air-conditioned lobby while waiting for the next 20-minute show.
Escape the heat in Universal Orlando
Universal Orlando has many indoor rides where you can escape the heat! Transformers: The Ride in 3-D, it's one of the indoor rides. Quite a bit of the queue line is indoors as well, and is well air conditioned. Several ride simulators are also inside, such as the Simpsons ride and Terminator. Jurassic Park: The Ride is sure to have a long line but will cool off your family on hot days, and may become one of your kids' favorite rides of the day. In addition to cooling off with air conditioning the multi-sensory flick 'Shrek 4-D' sprays visitors with water. Not once, not twice but at least three times.
The perfect way to beat the heat at Universal is – Universal's Volcano Bay. The new water theme park is the perfect way to cool off with over 30 experiences including 18 water rides, such as winding and action rivers, two children play areas, an aqua coaster unlike any other, and plenty of pools and sandy beaches. And you can't forget delicious food and refreshing beverages.
Skull Island: Reign of Kong's opening date hasn't been announce but is set to open sometime in the next few weeks. We aren't quite sure of the queue but will tell you that it's supposed to be amazing but not sure if it will be be the best place to cool off!
Escape the heat at SeaWorld Orlando
Temperatures can get quite high, especially in the middle of the day. Plan to take in these "cool places" when the thermometer rises: Shamu Underwater Viewing,  Shark Encounter, and Nautilus Amphitheater.
The most air-conditioned, and therefore the coldest, places are: Arctic Encounter, Sharks Encounter, and of course Antarctica Empire of the Penguin which is a one of a kind experience that will definitely beat the heat! Since penguins thrive in cold temperatures, this one is sure to cool you down. There's no glass separating you from the dozens of penguins, representing multiple species, which means that SeaWorld keeps the room very cold — less than 40 degrees.
Escape the heat at Orlando WaterParks
Aquatica Waterpark™, just across International Drive from SeaWorld Orlando, where you can  try Dolphin Plunge®, an experience that will make you forget all about chipping ice off your windshield. Inside an enclosed tube, you'll chute through the underwater habitat of stunning, active, black-and-white Commerson's dolphins.
Don't forget Disney's famous water parks; both Typhoon Lagoon & Blizzard Beach are incredible Waterparks to experience and beat the heat!! Enjoy a storm of fun this summer at Disney's Typhoon Lagoon! The Disney water park is home to the thrilling Crush 'n' Gusher slide, Humunga Kowabunga, Castaway Creek and man more rides and beaches.
Blizzard Beach will be throwing "Frozen" Games from May 27-Aug. 21. The Olympics-inspired activities allow visitors to choose either Team Kristoff or Team Olaf and participate in a series of games throughout the day including the Ice Pail Relays, which is actually pails of water, Snowball Toss, which are snowball-themed water balloons, Ski Pole Limbo and Slide Races.
No matter which Orlando Theme Park or Water Park  you visit this summer, if you plan your day and use these tips, you should be able make the most memorable summer vacation ever!! Orlando Ticket Connection is your one stop shop for all your Discount Theme Park Tickets and our vacation planners are on standby ready to make your summer vacation the "Coolest One" ever!!
Save
Save
Save