When it comes to Orlando, most people think Disney World or Universal Studios. But there is also SeaWorld Orlando. It's really a huge aquarium hidden in an amusement park. That's why it is absolute fun as well educational to teach people all about marine life. Orlando Ticket Connection has put together the Top 8 Reasons SeaWorld Orlando Rocks!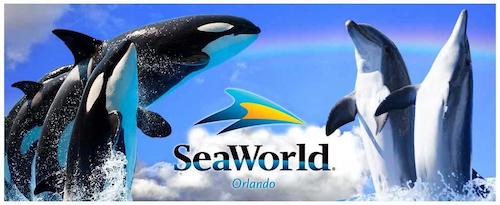 Top 8 Reasons SeaWorld Orlando Rocks!
1. Interaction With the Animals
Guests can get up close and personal with the animals, from walking next to flamingos on parade to feeding dolphins, sea lions, and stingrays. The Dolphin Nursery is a designated area for mothers and their newborn calves, who are especially playful for the audience. You can see orcas and mantas underwater as well as a dedicated shark encounter. This has one of the world's largest underwater viewing tunnels and a touch pool where you can learn all about sharks from SeaWorld's experts. Guests can glide through a glass tunnel completely surrounded by sharks. Outside is a tank filled with beautiful and exotic rays, like the leopard whipray.
2. Animal Rescue
Animal rescue is also a significant focus of SeaWorld. Over the last 50 years, SeaWorld has helped rescue more than 26,000 animals, including sea turtles, dolphins and manatees from right here in Central Florida.
3. Experience the Thrill Rides
SeaWorld Orlando is home to some of the most-thrilling roller coasters in town as well as fun rides for the entire family. Mako, the fastest, highest and longest roller coaster in Orlando. Manta and Kraken are two roller coasters already at the park, both of which have been named among the best coasters in the country by roller-coaster fanatics as well as The Travel Channel. Kraken Unleashed has undergone a complete redo packs a G-Force rating of 3.9 with seven inversions and two vertical loops. Manta comes in a close second with a G-Force rating of 3.7 with four inversions and two inline twists, not to mention passengers are riding face-first. SeaWorld has promised a new ride, Infinity Falls that has yet to open but rumors have it opening before the end of the year. Rush the rapids on SeaWorld's all-new river ride Infinity Falls. Explorers are wanted for the next expedition through Infinity Falls, coming to SeaWorld Orlando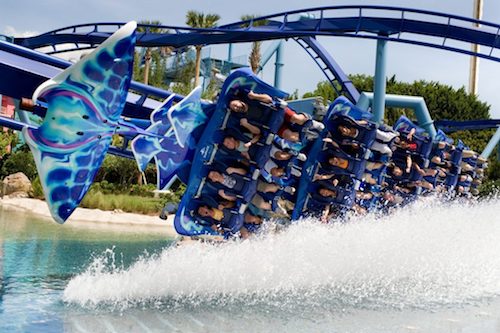 4. Attend the Special Events
Throughout the year, SeaWorld hosts special events, concerts and food festivals, from the Halloween Spooktacular and SeaWorld's Christmas Celebration to Summer Nights. With the return of Praise Wave, guests can also celebrate Christian fellowship and fun at SeaWorld Orlando. Halloween Spooktacular is especially fun for children as the park dresses up in a carnival-like theme complete with games, costumes and trick-or-treating. During select weekends in November, enjoy over 100 craft beers on draft from breweries across the state of Florida, during the During the Christmas Celebration, the park comes alive with thousands of lights—especially lovely in the Sea of Trees—and special attractions for kids like The Polar Express, visits with Santa and a Sesame Street "Countdown to Christmas" stage show.
5. SeaWorld's Antarctica: Empire of the Penguin
This rides shows you Antarctica through the eyes of a penguin named Puck. This family ride is suitable for younger children and you can select a 'mild' or 'wild' version of the simulator experience. The best part is when the ride is over you will exit straight into the penguin colony, where you will see hundreds of penguins in their icy habitat.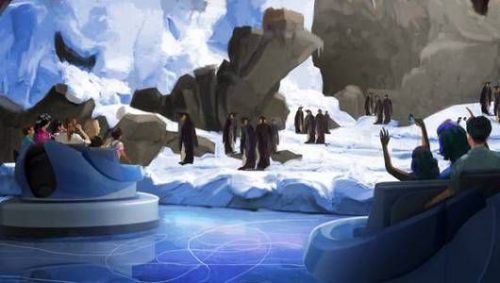 6. Shamu's Happy Harbor
Kid's need a place just for them and Shamu's Happy Harbor is just that, with lots of water spraying activities and kiddie rides. Shamu's Happy Harbor has a four-story tall network of nets and tubes that kids can climb and crawl through. It's called Pirate's Nets and kids can spend hours and oodles of energy exploring this tubular world. Although this has made the list, the entire area is under construction and is slated to open sometime in 2019. Make sure when you visit next year with your kids this is one you don't pass up!!
7. SeaWorld's All-Day Dining
SeaWorld has the best dining plan out of any park! One full meal every hour, including dessert, all day long! If you eat just twice, you'll get your money's worth. Adults can redeem 1 entree, 1 side OR 1 dessert & 1 regular sized non-alcoholic beverage & Children (Ages 3-9) can redeem Kids meals once per hour in the park. Guest can not only enjoy an exciting day full of great food and fun at SeaWorld Orlando but at Aquatica and Busch Gardens also. Pay once and dine up to once per hour all day until the published restaurant closing times. Orlando Ticket Connection is offering an incredible deal that can't be bought at the gate! Enjoy the best dining value during your day of fun in the sun at SeaWorld, & Aquatica or Busch Gardens with the SeaWorld Parks CHOOSE 2 Parks with Dining Ticket.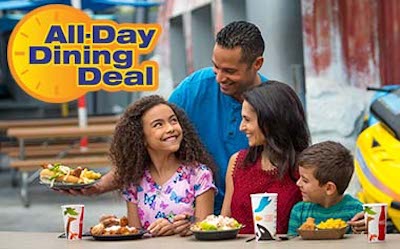 8. There's More Than One Park
Why not visit all four of the SeaWorld Parks in Florida and save money when you purchase combo tickets! Swim with the dolphins or take an underwater walking tour in Discovery Cove. Alternatively try a Serengeti Safari in Busch Gardens, where you can hand-feed giraffes. On a hot day visit SeaWorld's waterpark, Aquatica. Guest can enjoy the sun as well as have fun and some amazing water rides!