Universal Orlando Resort has been known for years to have two major theme parks, Universal Studios Florida and Universal's Islands of Adventure. But in 2017 Volcano Bay replaced Wet 'n Wild as Universal Orlando Resort's water park, and was the first constructed by Universal itself. Based on living the carefree life Volcano Bay has stepped up to be a major coo for Universal Orlando Resort!  Now you can enjoy this amazing water park free with Universal Orlando's 3rd Park Free Volcano Bay Promo. 
A spectacular volcano towering over a sun swept beach. Swaying palm trees lining your path through a picturesque island escape. It's a South Seas oasis right in the heart of Universal Orlando. From thrilling water slides to secluded waterfalls, Universal's Volcano Bay is a water theme park like no other. It's the perfect place to get away from it all, a beach paradise you can enjoy without ever leaving Orlando.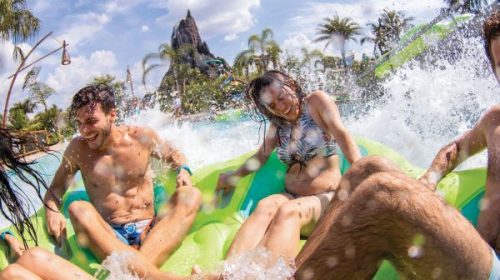 Universal's Volcano Bay Orlando Attractions
Kopiko Wai Winding River – This is a slow, lazy river ride that will cool you off with the occasional spray of water. You'll also float under the night sky when you enter the Stargazer's Cave.
ika Moana of the Honu ika Moana – This multi-person ride is suitable for guests 42 inches and taller. You'll tube along slides in a five-passenger raft, catching glimpses of bubbling geysers along the way.
Ko'okiri Body Plunge – With a minimum height of 48 inches, this experience offers some serious thrills and fun! The body plunge begins with a 70 degree fall through a drop door and an encounter with Vol, the volcano god, as you race along 125 feet of slide toward a pool.
Honu of the Honu ika Moana – This multi-person ride is for guest 48 inches and taller. It is inspired by the Waturi people who crested waves on sea turtles. Four-passenger rafts glide through twists and turns on this slide embellished with images of turtles.
TeAwa The Fearless River – For guests 48 inches and taller, this white-water experience is the ultimate in adventure! Wearing a life vest, you'll float along the rapids and waves.
Kala & Tai Nui Serpentine Body Slides – Take a leap off the volcano in these Body Slides! For guests 48 inches and taller, the Serpentine Body Slides to drop through twin drop doors at the top and race to the bottom of the tubes to the pool below.
Punga Racers – Ride a manta ray (slide mats) through underwater caves and explore the world of the Waturi children. Four slides race side-by-side, so guests 42 inches and taller can see who earns the first-place prize of a water spray salute.
Tot Tiki Reef – Perfect for babies and toddlers, Tot Tiki Reef is a water play area that offers small fountains, a small volcano and singing whales.
Puka Uli Lagoon – This leisure pool offers fun in the form of swimming, water drums, fountains and more.
Krakatau Aqua Coaster – Built around the volcano, the Krakatau Aqua Coaster is designed for guests 42 inches and taller. Four-person canoes glide through darkness and light, twists and turns as they explore the volcano. The conclusion of the ride takes your canoe through a waterfall.
Waturi Beach – This will be your first stop when you enter Volcano Bay. Waturi Beach offers seating, gentle surf and views of Krakatau Volcano. Swim, splash, lounge and dine at Waturi Beach.
The Reef – In The Reef you can splash and play in the pool with a view of the Body Plunge ride. A clear slide tube actually cuts through The Reef, which is located beside Waterfall Cove.
Tonga of Taniwha Tubes – Mimicking puka trees, these slide tubes seem to organically curve toward the pool. This water ride is for guests 48 inches and taller.
Ohyah of Ohyah & Ohno Drop Slides – For this slide, what goes up must come down! You'll first climb a cliff before finding yourself sliding toward a four-foot drop into the pool below. This thrill ride is for guests 48 inches and taller.
Puihi of Maku Puihi Round Raft Rides – Ride the lava tubes on this multi-person experience. For guests 42 inches and taller, rafts explore dark caves and experience zero-gravity before splashing to the bottom of the ride.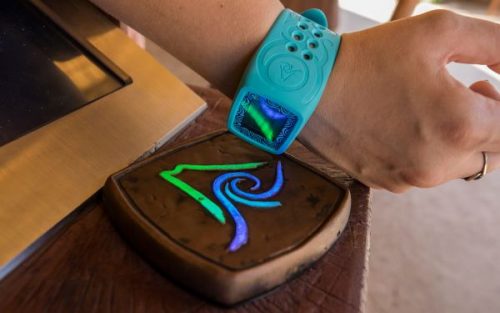 Universal's Volcano Bay Orlando TapuTapu Bands
We've told you about Universal's Volcano Bay's Virtual Line…we've told you about TapTu Play. Now, there are even more incredible benefits for you to enjoy with the TapuTapu wearable – made exclusively for Volcano Bay.
The TapuTapu wearable is one of the many things that will make Volcano Bay unlike any other water park in the world. It was designed to enhance fun and remove hassles.
No more standing in long lines to experience an attraction.
No more carrying wallets, cash or credit cards around the park.
No more fumbling for a locker key.
With the TapuTapu on your wrist, you'll experience an entirely new level of freedom and fun as you enjoy the park with your friends and family.
Our Universal Orlando's 3rd Park Free Volcano Bay Promo tickets allow you to choose 3-Park Base or 3-Park Park-to-Park Tickets and experience the 3rd Park FREE. You can choose length-of-stay options such as three, four or five days so you can experience all Universal Studios Florida, Universal's Islands of Adventure and Universal's Volcano Bay have to offer.
With this deal, Park-to-Park Tickets allow you to go back and forth from Universal Studios Florida, Universal's Islands of Adventure and Universal's Volcano Bay each day of your stay. This is especially helpful for days when one park may open or close earlier than the other parks. You can really maximize your vacation time with the park-to-park option. Base Tickets allow you to visit one park per day, and either ticket type requires the minimum of three days.