Disney World's Rope Drop
Disney World's Rope Drop is a famous event that happens each and every single day of the year across the four Disney World theme parks. It is the earliest time of the day that you can get into the parks and gives park guests the opportunity to enter the turnstiles before the park opens.
Disney World's Rope Drop also help off set the amount of money that you spend on Disney World Tickets. By being able to enjoy the parks early you are getting more bang for you buck! It is spread out over a period of time where the guests can pass through the turnstiles and wait up in a more spacious holding area just inside the theme park entrance. It keeps from having to process the thousands of guests that arrive at 9:00 am, though the crowded gates.
What is Disney World's Rope Drop?
The 'Rope' used to be  an actual rope, used to hold the guests from entering but now it is a line of Disney Cast Members, that are lively and informative blockade that guest can interact with, before the actual 'Rope Drop' which then allowed to release guests further into the whole theme park.
Guest are allowed to pass through the turnstiles around 15 minutes before official park opening times, however to could be earlier during the busy season such as holidays and special events.
At Disney World's Rope Drop, Disney World 's Magic Kingdom has a sweet little "Welcome Show" each morning about 20 minutes prior to park opening. The mayor of Main Street USA and dancers will come out to greet the crowds and then one of the Walt Disney World Railroad trains will pull into the station carrying a bunch of Disney characters. It is a cute way to start your day.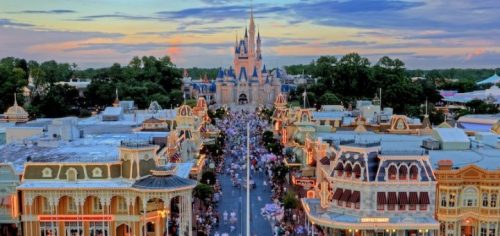 Usually the parking lots at the Magic Kingdom open around 2 hours prior to park opening but would not recommend showing up that early as Tram, Monorail and Ferry operational times vary. Arriving at the parking plaza around 1 hour prior to official park opening would be better and guest's can get in nice and early while transportation services will be up and running.
Once you are inside the parks, you've got the park to yourselves for about a full hour, before a trickle of guests begin to arrive. By 10am the park may be noticeably fuller, but attractions tend to be still reasonable in terms of line waits.
Coupled with midday and afternoon Fastpass+ selections, Disney World's Rope Drop, can be an effective crowd beater whatever time of the year!
OrlandoTicketConnection.com is your best place to purchase Discount Disney Tickets!!