Home Page › Theme Park News - Orlando › SeaWorld Orlando News › Sesame Street at SeaWorld Orlando Opens this Month
This month, you and your family will be able to walk down Sesame Street, uniting everyone with fun, happiness and learning of the world-famous street, because Sesame Street at SeaWorld Orlando Opens this Month.
Sesame Street at SeaWorld Orlando Opens this Month
Excitement and learning reside at Sesame Street, and now Sesame Street lives at SeaWorld Orlando! This Spring your family is invited to the community that all your favorite furry friends call home. Wander down Sesame Street and stop by the famous stoop at 123.
The childhood favorite will be incorporated inside the
Shamu's Happy Harbor area and will include recreations of Mr. Hooper's store,
Big Birds Nest, Abby Caddaby's Garden and more Sesame Street favorites. The new
attraction will also include interactive experiences, rides, as well as wet and
dry play areas.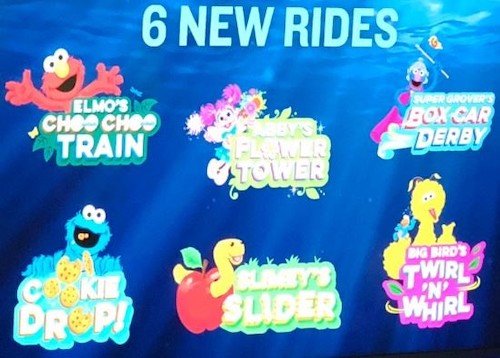 6 New Rides Opening
Of course, that's not all. SeaWorld have just revealed details for not just one, but six brand new rides! All of the rides will be family-friendly, so that both the kids and big kids can experience them together. SeaWorld hasn't given too much away just yet, but since Sesame Street at SeaWorld Orlando Opens this Month, you will find out very soon!
Big Bird's Twirl 'N' Whirl- This attraction will bring a new and unique twist to an old favourite, as this is Big Bird's version of the tea cup ride. Get ready to spin around in your very own nest.
Abby's Flower Tower– Pick a flower pot and prepare to soar up above the ground on this exciting ride. You'll get an amazing view of Sesame Street from the top!
Elmo's Choo Choo Train– Join Elmo as he embarks on a search for some of his favourite things in nature. You'll have plenty of fun on this train ride.
Cookie Drop– Like the name suggests this is a ride inspired by the loveable Cookie Monster. It's a vertical drop ride, but don't worry, it will be family-friendly.
Slimey's Slider- This ride will send you whirling through Oscar's treasured compost collection for a "grouchy good time".
Super Grover's Box Car Derby- Get ready for an exciting race on this fun-filled coaster. There's big turns, fun hills and mini-dives! This is the perfect choice for a first-coaster if you're visiting with little ones.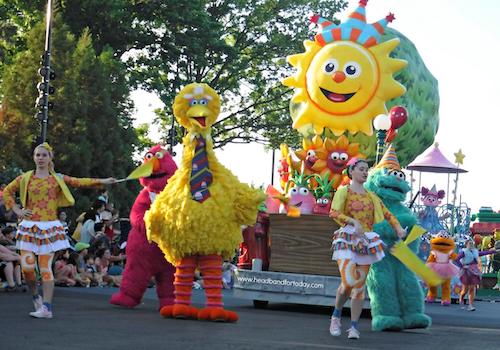 Sesame Street Party Parade
Once you've experienced all of the rides, make sure you
check out the new Sesame Street parade. Move to the beat during the coolest
party on wheels and celebrate with your favorite friends at the award-wining
Sesame Street Party Parade. Visitors of all ages will be up and dancing as
Elmo, Big Bird and friends accompany colorful floats – and a few special
surprises – in the first parade ever at SeaWorld Orlando. This will be
SeaWorld's first ever daily parade, so you won't want to miss it. Line the
parade route and get ready to wave along to your favorite characters as they
glide past on a series of colorful floats.
Once your family has decided to let Orlando Ticket Connection be the connection to fun, just Click here, to view our great value SeaWorld Orlando tickets.